Looking for ways to improve Podcastpedia.org' mobile user-friendliness, I have discovered Google's PageSpeed Insights . After analyzing the home page, a podcast's page (The Naked Scientists Podcast – Stripping Down Science), an episode page and scoring an average of 70 out of 100 (even worse on mobile) two points needed urgent fixing:
1. Enabling compression
Compressing resources with gzip or deflate will reduce the number of bytes sent over the network at the expense of slightly increased CPU utilization. Smaller files also mean less bandwidth used and faster transfer time. At Google's recommendation I have enabled file compression on the Apache web server, for which you have to use the mod_deflate module.
1.1 Enable mod_deflate on GoDaddy
To enable mod_deflate on a GoDaddy Virtual Private Server account, you have to use Easy Apache and the same procedure as in Troubleshooting WordPress installation on GoDaddy VPS. You need to check the Deflate option at step number 5. Exhaustive Options List and recompile the Apache Server.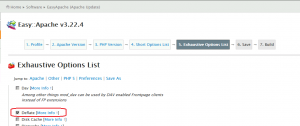 To verify the module mod_deflate is active run the following command on CentOS
httpd -M | grep deflate_module